When shopping for new bed sheets or other bedding products, it's helpful to understand the many sorts of textiles and fibers and the distinct weaves. Do you see the ideal bedding as silky and ultra-smooth fabric with a moderately shiny, high-end appearance? If so, sateen bedding might be an excellent alternative for you. But what precisely is sateen, and how does it relate to other textiles? Here's all you need to know about cotton sateen, a wonderful fabric.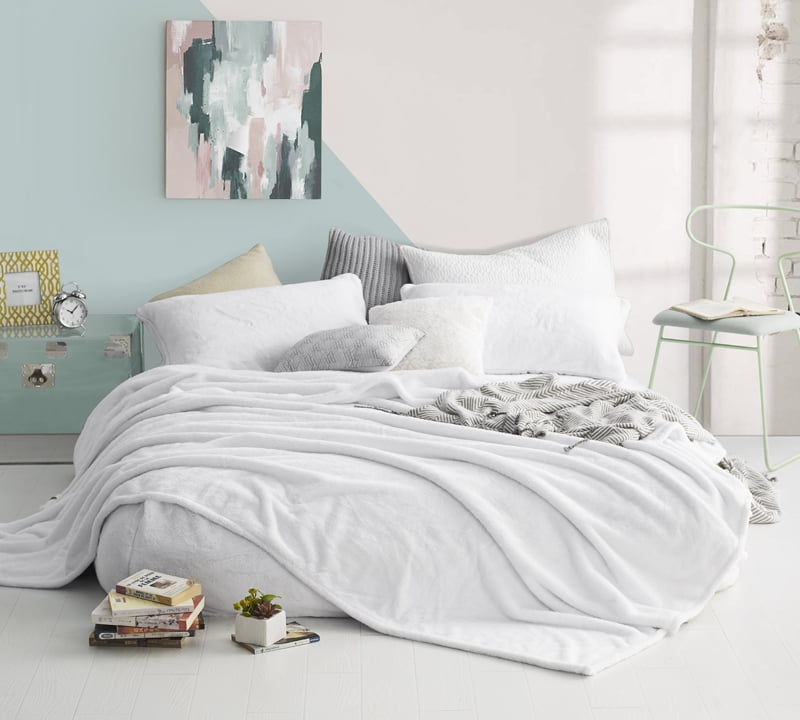 What is Cotton Sateen?
Sateen is a satin-woven cotton fabric that is 100% cotton. The material is constructed of long-staple Egyptian cotton and is delightfully drapey and silky while remaining soft and sturdy. Cotton sateen is popular for its smooth, opulent feel and premium appearance. Sateen bedding isn't very gleaming, but it does have a soft shine that contributes to its allure.
How is Sateen Made?
A sateen weave is made using a 'one thread beneath, three threads over' construction pattern. Furthermore, unlike satin, which is made of ultra-fine filament threads, the fabric is made of yarns. The weave is looser than a standard square, yet the larger yarn size gives a warm and cozy sensation. A common square thread has one under and one over the weave.
Know about Sateen Bedding
In the bedding industry, sateen has several applications. Sateen sheets, pillowcases, a duvet cover, and matching shams are available, or you may mix and match with different fabrics. Some good sateen bedding sets will survive for years, resist pilling, and improve with age. The naturally warm material is unquestionably cuddly, making it an excellent alternative for folks who get cold at night or prefer a cozier winter option. However, because sateen bedding isn't too warm or chilly, it's suitable for year-round usage.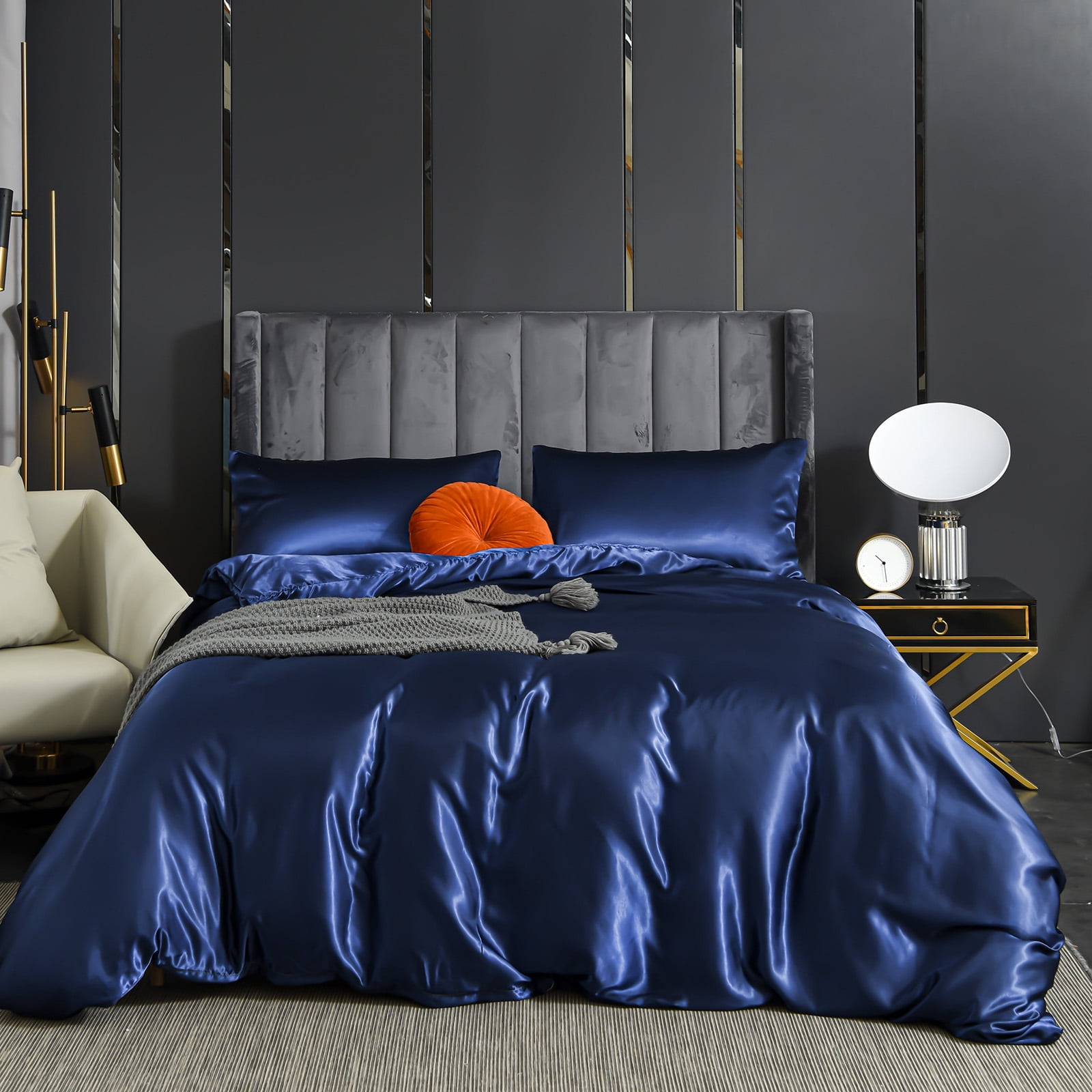 Is Sateen Cotton Bedding For You?
The only thing to remember about sateen sheets is that they can be a little marmite. Many say that after they've slept in these, they'll never return to a standard percale weave. However, for some, cotton sateen covers are too smooth and distinct from what they are used to. The soft feel and delicate shine of sateen fabric lend it an air of grandeur; thus, whether you enjoy a bit of extravagance in your life or are naturally a cold sleeper, a sateen finish is for you.
Sateen Vs. Other Bedding Fabrics
Sateen is a good option if you want smooth-as-butter bedding yet want something sturdy and warm. The fabric is a touch thicker than other materials, making it less prone to creases and adding to the comfortable, welcoming feel. However, there is nothing wrong with assessing your alternatives. So, which fabric is superior, percale or sateen? What about Egyptian cotton and satin, for example? Find out below.
Egyptian Cotton Vs. Sateen
The Gossypium barbadense plant provides ultra-fine and naturally soft long-staple cotton fibers. While the substance is primarily found in Egypt, it may be found worldwide. To wear the Egyptian cotton label, bedding must be made of verified long-staple cotton from Egypt. Egyptian cotton is the basic material used to manufacture fabric, while sateen is a weave. This implies that bedding can be both- Egyptian cotton sateen weave.
Sateen Vs. Satin
What is the distinction between sateen and satin? Sateen is made of yarns, whereas satin is made of thinner threads. Sateen mimics the drapey, silky-soft characteristics of satin. On the other hand, satin is composed of silk or a synthetic substance such as polyester or nylon. Although sateen has a faint shine, it lacks the glossy appearance of silk. It's also softer and warmer than satin.
Percale Vs. Sateen
Satin weave imparts a subtle sheen to sateen, whereas percale's square weave imparts a matte appearance. Both are indisputably soft and durable, and they improve with each wash; nevertheless, sateen is somewhat more wrinkle resistant. Furthermore, sateen has a warm and comfortable feel, but the percale is crisp and chilly. In general, sateen is preferable for individuals who become cold at night. In contrast, percale is better for those who run hot. Both textiles are appropriate for year-round use.
How to Choose the Right Bedding?
We spend one-third of our lives in bed, so investing in the correct bed linens is worthwhile. They may significantly influence how we sleep and how comfy we are before and after we get up. However, purchasing bedding may be a difficult affair. You'll need to understand thread counts, long- and short-staple cotton weaves, and finishes before considering where your bedding is manufactured.
What is Meant by Thread Count?
Thread count refers to the total number of yarns per square inch of textile. If the thread count is high, relatively thin cords may fit more into one square inch than thicker or coarser strands. As a result, high thread counts have been associated with high-quality fabric since finer yarns are designed to make the bedsheets softer and more durable. Still, other variables such as fiber quality and weave should be considered while buying sheets.
What is the Best Thread Count for Sheets?
Thread counts of 300 to 500 thread count sheets are common in high-quality bed linens. Anything above 500 isn't always better, while on the other hand, excellent sheets with thread counts under 300 are still available. Furthermore, tests have revealed that the 300 to 500 thread count region is a perfect balance. However, a sheet in this range isn't certain to be of excellent quality. Fiber composition and structure are more significant.
Final Words
Sateen sheets, like other sheets, are available in a variety of thread counts ranging from 120 to 1,000 thread count sheets. However, because nobody controls thread counts, the manufacturer can twist multiple thinner threads together to increase the thread count, which can be misleading when shopping for quality sheets and comparing different types. So, understand and read more about beddings to choose the correct sheets for a good sleep.